Conference Series LLC invites all the participants across the globe to attend the "5th International Conference and Exhibition on Pharmacology & Ethnopharmacology" slated on Mar 23-25, 2017 Orlando, USA. Ethnopharmacology 2017 conveys recent developments in Pharmacology and Ethnopharmacology. Ethnopharmacology 2017 will focus on "Foster Advancements in Globalization of Ethnopharmacology".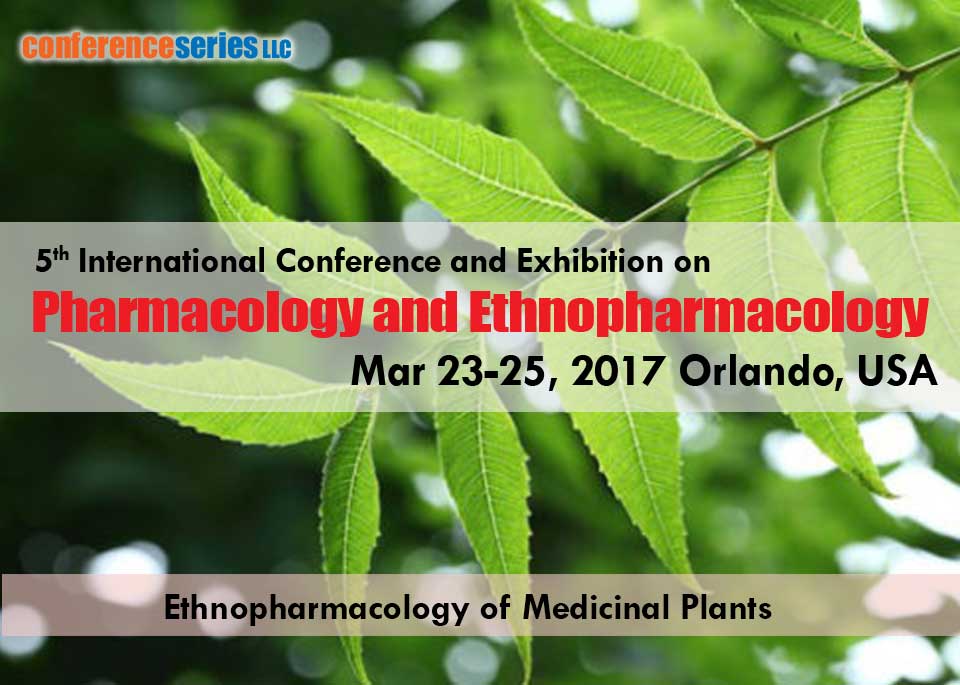 A complete knowledge of a scientific discipline that described the overt effects of biologically active chemicals, pharmacology now explores the molecular mechanisms by which drugs cause biological effects. In the broadest sense, pharmacology is the study of how chemical agents, both natural and synthetic (i.e., drugs) affect biological systems.
While remarkable progress has been made in developing new drugs and in understanding how they act, the challenges that remain are endless. New discoveries regarding fundamental life processes always raise new and intriguing questions that stimulate further research and evoke the need for fresh insight.

Conference Highlights
Pharmacokinetics and Pharmacodynamics
Ethnopharmacology
Latest Trends in Ethnopharmacology
Cardiovascular Pharmacology and Diabetes
Pharmacognosy
Ecological Characteristics of Ethnobotanical Sources
Phytochemical Studies of Plants and Plant Extracts
Phytochemistry and Phytopharmaceuticals
Natural Products Pharmacology
Neuropharmacology
Traditional Herbals in Treatment of Cancer
Ethnopharmacology of Medicinal Plants
Ethnopharmacology of Alkaloids
Emerging Technology in Natural Product Drug Development
Intercultural of Ethnopharmacology
Entrepreneurs Investment Meet
Accommodation
A large number of rooms have been reserved. Discounted room rates for Ethnopharmacology 2017 participants are proposed. Only reservations made through the Conference will benefit these rates. The Congress Center can be easily reached by public transportation.
Exhibition and Sponsorship
An Exhibition will be held concurrently with the Congress. The coffee break and lunch areas will be located adjacent to the booths. Thanks to exhibitors from all over the world, attendees will have a complete overview of new findings in the fields of Pharmaceutics & Novel Drug Delivery Systems.