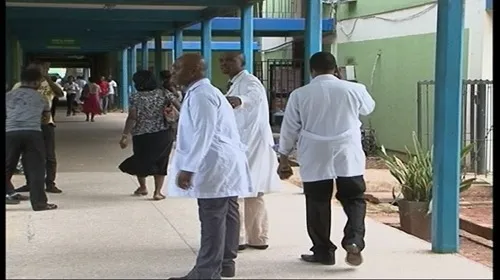 The physicians at the Ladoke Akintola University of Technology Teaching Hospital in Ogbomoso, Oyo State initiated an industrial action on Monday due to poor working conditions and owed salaries.
Dr Ayobami Alabi, chairman of the hospital's MDCAN chapter, and Dr Taiwo Alatishe, secretary of the association jointly signed the statement for the commencement of the strike action.
They said that the decision was based on a congressional resolution that was reached after the ultimatum had expired. The MDCAN of the chapter stated that, after carefully examining the situation in the hospital, there was no guarantee that the matters in dispute would be quickly resolved, either partially or in full.
The association declared that they had put in a lot of work in the past to protect the hospital from going under and to restructure it in order to provide better training, research, and services, as that was its original purpose.
They deemed it unacceptable for their members who had been recently hired to not receive their salaries. The union criticised the management for not promptly paying the 2016 to 2017 salary arrears.
The statement also noted a lack of personnel among doctors with different levels of qualifications, including consultants, specialists in various fields, resident doctors, specialists in training, and house officers.
"The prescribed ratio of doctors expected to function in a tertiary hospital is already distorted and highly eroded by this shortfall undermining quality training and service.
"The persistent inability of hospital management to employ doctors and other staff hinged on the excuse of paucity of funds, has led to failure in expanding the scope of training and services,'' it stated.
The association expressed its disapproval of the inadequate infrastructure, equipment, and facilities, and argued that they were causing the hospital to perform below the expected level of a teaching hospital.
It enumerated the inadequate service provisions, such as the unavailability of offices for consultants and the lack of response from management, despite repeated pleas over a number of years.
The doctors justified the strike action, saying it is appropriate to protect the hospital from complete destruction and to help it attain its original purpose of providing training, research, and services.
"The board of the hospital failed to respond appropriately and satisfactorily to all these challenges over the years despite our various engagements, tolerance and show of understanding.
"This treatment is anti-labour. It is also considered inhumane with the attending psychological and emotional trauma,'' they stressed.
MDCAN requested assistance from the public, traditional leaders, essential stakeholders, and the state government to help revitalise the teaching hospital for improved outcomes.