Glaucoma is an irreversible progressive disease of the eye characterised by abnormally high intraocular pressure (IOP) which causes damage to the optic nerves (the light sensitive and signal transmitting tissues of the eye) and can eventually lead to partial or complete blindness.
Glaucoma diagnosis and the prevention of the disease progression depend heavily on the accuracy of intraocular pressure measurements. Normal IOP is in the range of 10-21 mmHg but in glaucoma patients, IOP increases above the normal range because of increased resistance to the fluid flow in the drainage pathway.
IOP fluctuations above the normal limit represent a significant risk factor in the progression of glaucoma. Thus, frequent/continuous data collection (IOP measurements) may impact glaucoma treatment similar to the Impact of home glucose monitoring on the management of diabetes.
Current methods for glaucoma diagnosis and monitoring are usually limited to single snapshots in time, taken at a visit to the eye doctor during daytime, when pressure tends to be at its lowest. But glaucoma specialists believe that one of the main contributors to disease progression is frequent changes in pressure over the course of a day, or high peaks during the night–something that, in the most serious cases, requires frequent measurement during an overnight hospitalisation.
Current trends
The advances in polymer synthesis, electronics and micro/nanofabrication, have led to the development of contact lenses with diagnostic capabilities one of which is its application in a clinical or point-of-care setting to monitor intraocular pressure continuously.
Contact lens embedded with a wireless pressure nanosensor for the real-time measurement/monitoring of intraocular pressure in glaucoma patients will make it possible to arrest the disease progression early so that the patient does not lose much vision. The ability to pair the sensor with mobile medical applications may allow real-time data logging and transfer to clinicians for efficient diagnosis.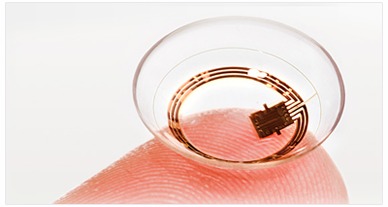 This is made possible by a microprocessor in the contact lens which sends signals proportional to changes in the IOP to a wireless readout device attached to the user's waist, which also wirelessly powers the contact lens. Data from wearable devices can be used by physicians to prescribe personalised medicines (PM) that will improve drug efficacy manifold.
It is noteworthy to consider the growing acceptability of contact lens due to their ease of use, aesthetics, and convenience, shelf life, wear schedule and cleaning which is a vital factor for consumer acceptance. Today contact lenses are worn for vision correction, therapeutic and cosmetic purposes. However, the contact  lens  market  has  already  established  norms  and  standards,  and  therefore  this  expertise  can  be  leveraged  and  applied to the development and promotion of the device. It is recommended that the regulatory requirements be incorporated into the product design to accelerate commercialisation of the product. Obtaining a 510k approval for the device will take up to 12 months after clinical trials. It is worth mentioning, that the FDA has classified similar diagnostic contact lens sensors such as those made of PMMA as Class II medical device.
Market size and projections
A simple model developed by the WHO to estimate the extent of glaucoma on a regional basis, taking into account demographic data, e.g., age distribution, gender and ethnic groups, demonstrates that glaucoma is responsible for approximately 5.2 million blind (15 per cent of the total burden of world blindness).
Glaucoma accounts for over 10 million visits to physicians each year in the US. In terms of Social Security benefits, lost income tax revenues, and health care expenditures, the cost to the U.S. government is estimated to be over $1.5 billion annually. Population above the age of 40 years is more prone for this disease due to malfunctioning of various eye structures.
In addition, strong reimbursement policies in various nations for the treatment of this disease would also enhance the growth of this market. Estimates by market scope a research and consulting firm shows that the global glaucoma and ocular hypertensive populations was 125.5 million in 2015, and the number is expected to grow to 141.6 million by 2020.
The geographic scale of this venture is global. According to a research report published by Market and Markets, the global ophthalmology devices market is projected to reach USD 58.05 Billion by 2021, at a CAGR of 3.7 per cent from 2016 to 2021. However, the global contact lenses market is expected to be valued at US$13.47 billion by the end of 2019. It was recorded at US$6.81 billion in 2012. This growth rate is sustained by prime drivers that include advancements in therapeutic properties of lenses while making large strides in aesthetics and cosmetics.
However, North America is the largest market for ophthalmology drugs and devices, accounting for over 42 per cent of the market, followed by Europe and Asia. The large share of this region can be attributed to high healthcare expenditure, higher awareness and uptake of ophthalmology treatments and surgeries, and availability of advanced ophthalmology diagnostics and monitoring devices in the country.
Sub-sectors
The sub-sectors in the industry engaged in this endeavour include semiconductor companies with active expertise in the miniaturisation of electronics to complement pharmaceutical and medical device companies for continuous product development and most importantly, ophthalmic clinics which will help in clinical development, supply chain and patient engagements.
Another interesting opportunity is the deployment of IOT architecture where the real-time data feeds from the wearable device can be transmitted to cloud systems. This data can be shared with ophthalmologists and healthcare providers for improve monitoring and disease management. Device efficacy data and health information received can also be ploughed back to R&D systems which can be used in pharmacovigilance to curb adverse event cases and improve regulatory compliance.
References:
Nicholas M. Farandos, Ali K. Yetisen, Michael J. Monteiro, Christopher R. Lowe, Seok Hyun Yun (2015) Contact Lens Sensors in Ocular Diagnostics. Adv. Healthcare Mater.2015, 4, 792–810
) Shrivastava A. (2015) "NextGen Pharma takes smart strides with Internet of Things" Wipro Ltd, http://www.wipro.com/documents/nextgen-pharma-takes-smart-strides-with-internet-of-things.pdf
com (2016) Ophthalmology Devices Market (Optical Coherence Tomography (OCT), Fundus Camera, Ophthalmoscope, Tonometer, Phoropter, Slit Lamp, IOLs, Phacoemulsification, Excimer Laser, Femtosecond Laser, Contact Lenses) – Market Share Analysis & Global Forecasts to 2021
https://market-scope.com/pressrelease/market-scope-expects-the-glaucoma-pharmaceutical-market-to-generate-6-1-billion-in-revenues-by-2020/
MIT Technology Review. https://www.technologyreview.com/s/418247/glaucoma-test-in-a-contact-lens/
Center for Disease Control and Prevention/National Center for Health Statistics, 2010 & 1995;